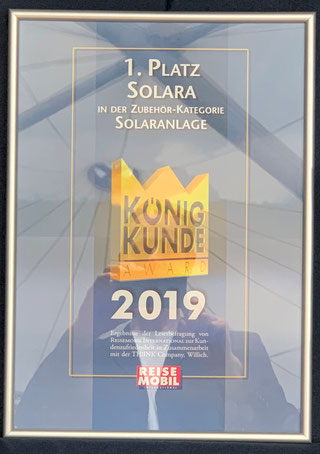 In the "King Customer" customer satisfaction study, the DoldeMedien Verlag asks the readers of its camping magazine how satisfied they are with their products (e.g. solar energy systems) for mobile leisure time. The customers evaluate their real impressions and experiences, e.g. of SOLARA solar modules. In contrast to other surveys, which tend to focus more on ideas and wishful thinking, the difference is that the survey is based on the customer's impressions.
The participants in the King Customer Award know exactly what they are talking about, their own a solar system with charge controller and holding devices and use the solar module intensively themselves. By using the solar system for motorhome or camper, the participants know the strengths and weaknesses of solar technology.
The award ceremony was traditionally held at the Caravan Salon in Duesseldorf in September. More: https://www.reisemobil-international.de/news-termine/awards/koenig-kunde-award-2019/
Read the press release from DoldeMedien Verlag GmbH
König Kunde Award honours the best caravaning brands
The trade magazine Reisemobil International and Camping, Cars & Caravans chose the winner (e.g. for solar modules) of their large reader survey at the Caravan Salon in Duesseldorf. The only customer satisfaction survey in the caravaning industry provides exclusive insights from the customer's perspective - and once again confirms the trend of previous years.
How satisfied are camping and caravanning fans with their solar system on their motorhome or caravan? For example, which solar module works well? Wich brands can be recommended? For eleven years now, DoldeMedien Verlag Stuttgart has been using a fixed pattern of questions to collect and evaluate the reader experience of its magazines Reisemobil international and Camping, Cars & Caravans together with market researcher Christian Manzei. In this way, the rise and fall of a brand can be tracked as well as long-term trends.
"The study called 'King Customer' because customers and active campers determine which brands are ahead, "says Heiko Paul, editor-in-chief of Reisemobil international. "The more positive the experiences with customers loyalty, quality, price/performance, workshop and service, the sooner a brand conquers the top positions and can rightly be proud of it".
Source: DoldeMedien Verlag GmbH " King Customer Awars honours the best caravaning brands", Duesseldorf/Stuttgart (ots)