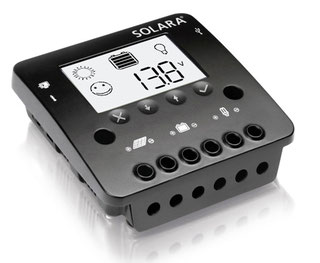 The SOLARA SR350DUO controller can charge the living area and starter (motor) battery simultaneously with one solar system. This ensures that all batteries on board are fully charged, especially during long periods of inactivity. In addition, excess solar energy can be stored in a second, e.g. motor battery or even LiFePo battery and is no longer wasted.
Modern four-stage PWM charging process with temperature compensation, external sensor and overcharge protection guarantees optimum charging. The large, clearly to read LCD shows, among other things, the energy flows and the charge status of the batteries.
For technology enthusiasts, the new SOLARA SR350DUO controller has extensive control, programming, safety and acoustic warning functions. Thanks to the integrated data logger, all information can even be exported with the MXI adapter.
Innovative touch buttons avoid mechanical switches which can cause defects in the motorhome due to frequent vibrations.
The SOLARA controller has generous 16qmm connection terminals, is suitable for 12V and 24V systems up to 20A charging current and due to its design also as a built-in device. The electronics are fully encapsulated in a robust housing and thus protected against moisture.