Extremely flat and high-performance solar panels for motorhomes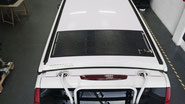 The new solar panels form SOLARA have a thickness of 3 mm and weigh only 4 to 5 kg. Due to the extremely flat design, they are bendable, fully walkable and do not generate any additional driving noise in the motorhome.
The surface consists of a new, highly transparent, weather-resistant and particularly dirt-repellent special foil from Upper Bavaria. Compared to conventional solar panels made of glass, the SOLARAMODULE no longer needs to be cleaned and a stone chip cannot do any harm to it.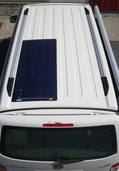 No savings were made on the solar cells either. Significantly more cells than the usual 36 have been installed to ensure sufficient voltage to charge the battery even at high temperatures. Furthermore, the silver conductors on the surface of the cells were omitted so that more light falls on the monocrystalline high-performance cells. This means that the solar module generates over 20% more electricity than conventional solar panels on the same surface. Therefore, SOLARA also calls the product Power-M-series.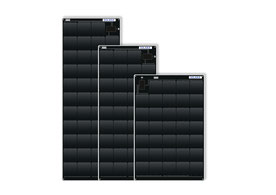 There are three sizes with an output of up to 140 Watt/peak. In summer, you can generate an average of 560 watt-hours of electricity per day. The SOLARA Power-M-series is available in good specialist shops from € 938.